Zoner Photo Studio Pro 15.0.1 Build 7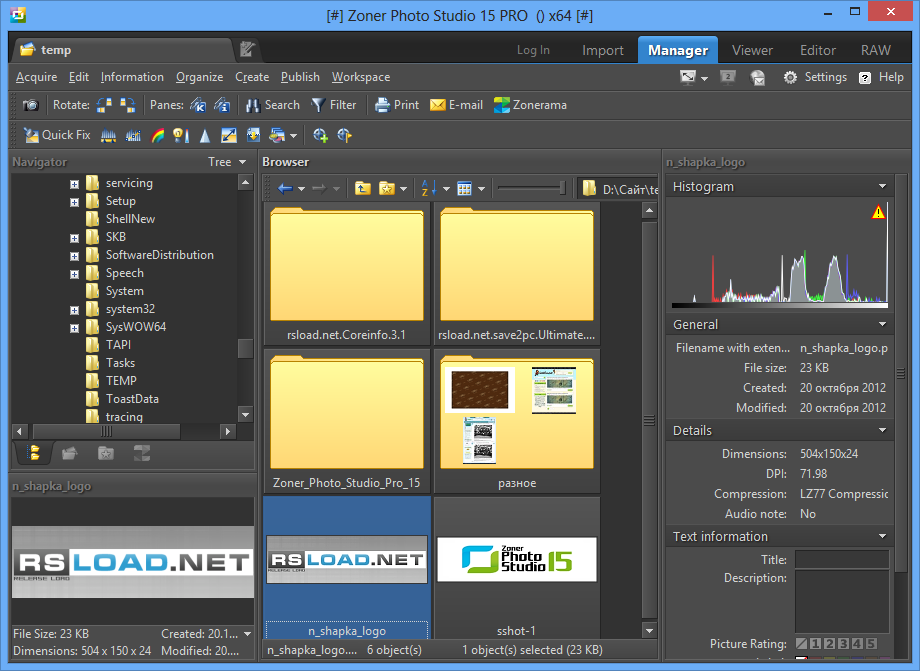 Zoner Photo Studio description
One-stop software by photographers, for photographers.
With Zoner Photo Studio you can save a lot of time thanks to the automatic photo sorting, batch editor and direct integration.
Zoner Photo Studio is your one-stop solution for downloading photos, correcting and removing defects, adding creative effects, organizing and tagging your collection, and sharing your creations, from serious to whimsical.
This professional-grade tool by photographers for photographers supports every standard and technology in the industry. Bring in whole batches of RAW photos at once with custom edits in the state-of-the-art RAW module. Take advantage of top-of-the-line noise reduction.
Maintain maximum quality from start to finish with color management and 48-bit color. Make managing and publishing photo information easy with seamless, silent support for EXIF, IPTC, and XMP.
The streamlined interface in eye-saving charcoal gray is as powerful as it is attractive. Bring in pictures from anywhere you can imagine, then apply as many edits as you want to as many photos as you want, all at once. When editing single photos, take advantage of the Editing Layer selection mask and advanced selection tools.
Take control over exposure with filters like Levels and Curves, or use features like Quick Fix to let the program do the work. A serious photo archive demands serious tagging, organizing, and navigation tools, and Zoner Photo Studio delivers, with countless sorting, searching, and filtering features, including a Catalog view to quickly and effortlessly see your photos organized by timeline.
Use the new Filmstrip to browse photos quickly during editing, full-size viewing, and while picking out the cream of the crop in the newly improved Compare Images tab. You'll enjoy the workflow, but you know the outputs are the point.
Note: The 10 days trial period can be extended to 30 days from the main window of the application.
Here are some key features of "Zoner Photo Studio":
· Acquire photos from your camera, scanner, card, or screen
· Fix pictures fast with Quick Fix
· Save time with convenient batch operations
· Quickly find all photos and pictures on your hard drive
· Create panoramas and 3D photos easily
· Use a wide array of edits and effects
· Add GPS photo locations and see them on a map
· Publish to the web easily and directly
· Templates for calendars, greeting cards, and more
· Save money with the Paper Saver
· Enjoy the fresh, easy-to-use interface
Requirements:
· Processor: Intel Pentium 4 or compatible
· Memory: 1 GB RAM
· Hard Disk space: min. 350 MB free
· Resolution: 1024 x 768 HiColor
· DirectX 9 or higher
Limitations:
· 30 days trial
· Nag screen
What's New in This Release: [ read full changelog ]
Quick Edits Bar:
· In Zoner Photo Studio 15 you always have your most-used tools right at hand. Thanks to the intuitive sliders in the Quick Edits pane, you'll find it easy to set things up the way you need, and you'll see the results of your edits right away.
· When you really like what you see, you can save your Quick Edits for use on other photos later. Simple, easy, fast.
The New Import Window:
· Just hook up your camera, and Zoner Photo Studio will find new photos, store them safely, and sort them into folders.
· Once you've got the import settings you want, you never have to worry about them again. And your favorite photo manager will always make sure your photo collection is up to date.
Tilt-shift Effect:
· Want some can't-miss pictures? We've helped you create them before with Tone Mapping, Panoramas, and 3D photos, and now we have yet another trendy new effect.
· The Tilt-shift effect makes objects in your photo look like miniatures. Forget about expensive tilt-shift lense…